St Michael's School Community Newsletter
76 Lisa Crescent, Rotorua
Ph: (07) 3481 362
Principal's Message - Week 7, Term 2 - 2020
Greetings, Kia ora, Kia orana, Talofa, Mālō e lelei, Namaste, Ni Hao, Bula, Hola, Kumusta.
The first week back under Alert Level 2 was a huge success. Thank you to everyone who followed the Health and Safety rules.
Our contact tracing protocols are sharp. Our handwashing and hygiene practices have been implemented and followed by staff and students without a hitch.
We have deleted our school's Facebook Page. We listened to you when you told us there were too many platforms for communication. The survey results confirmed our suspicion. Facebook is outmoded and underused. Therefore. It's gone. We communicate via Seesaw, Email, School App. We use the phone should we need to for very urgent or important matters.
We welcome Finau Stokes to St Michael's School. Finau is the little brother of Tui (Year 6). He has had a confident start in the Ark. We are open for enrolments. We are not sure when we will resume Kindy visits in big groups. However, families with a pre-schooler can contact the office and we can arrange school visits for you.
St Michael's continues to focus on the virtues of Kindness and Respect as we move prayerfully from the Ascension of Jesus to Pentecost (The arrival of the Holy Spirit.
Please check out the school calendar below which has both a weekly view and term view.
God bless us all,
Whaea Kristina

In Today's Bulletin
Setting the Scene - Beginning of the week Gospel Reflections

Pyjama Day at St Michael's School

School Calendar

Staff Farewell

Health and Wellbeing in these uncertain times

Curriculum News

NEW - SUSHI LUNCH ORDER OPTION -
---
Setting the Scene - Gospel Reflections -
Gospel - Matthew 28 - 16-20
Jesus Talks to His Followers
16 The eleven followers went to Galilee, to the mountain where Jesus told them to go. 17 On the mountain the followers saw Jesus. They worshiped him. But some of the followers did not believe that it was really Jesus. 18 So he came to them and said, "All authority in heaven and on earth is given to me. 19 So go and make followers of all people in the world. Baptize them in the name of the Father and the Son and the Holy Spirit. 20 Teach them to obey everything that I have told you to do. You can be sure that I will be with you always. I will continue with you until the end of time."
Matthew's Gospel reminds us that as Catholics, we hope to live in unity with one another, and we desire all people to come to know Jesus. This week is the Week of Prayer for Christian Unity.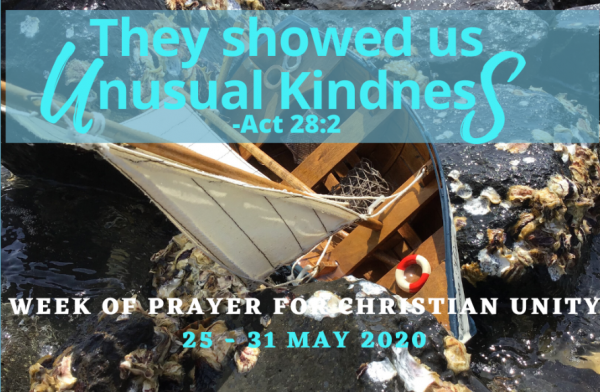 Click the image to access the resources for your own use at home.
Here is the prayer for Day 1 of our Week of Unity. I ask that you take a quiet moment to pray. This prayer is the first in our week of prayer. Daily prayer that will prepare us for the outpouring of the Holy Spirit. Pentecost.
E Te Atua, set us free from painful memories of the past.
Lead us to reconciliation, so that, through Te Wairua Tapu we may overcome
hatred with love, anger with gentleness, and suspicion with trust.
We ask this in the name of your beloved Son, our brother Jesus. Amen.
---
Pyjama Day at St Michael's School
We loved wearing our pyjamas to school on Friday! Some of the children said that it was our "Level 4" Uniform.
This Friday we are going to dress up as our favourite Book Character!
---
Monday

8am - Staff Prayers

8:30am - Gates OPEN


Tuesday

Wednesday

3:15pm - Staff meeting

Kapai Kai Lunch Orders Available

Thursday

6pm - Board of Trustees Meeting - online

Friday

Whole School -

Book Character

Dress Up Day

Kapai Kai Lunch Orders Available
Term Two at a Glance
Week 7

Week 8

Week 9

Week 10

Week 11

Week 12

Week of Prayer for Christian Unity

Book Character Day

Queen's Birthday - Public Holiday

Pentecost

Liturgy

Whacky Hair Day

Galilee children receive Records of Learning

Suzanne Aubert

Liturgy / Tabloids

Wed/Thur Parent Interviews

BOT Meeting - 6pm

Friday - End of Term 2
---
Farewell Mrs Russell!
Mrs Russell in The Ark has been offered an exciting new work opportunity that she just could not say no to! Mrs Russell will get to enjoy a role that is more flexible and allows her to use her skills and passion for education but is not classroom based.
Mrs Russell is sad to be leaving St Michael's School after such a very short time. She has found her time here to be warm and welcoming. She has quickly formed positive relationships with parents at our school. Mrs McLanachan, Mrs Russell, Mrs Paget and their band of support staff have turned the Ark around in record time. With structure, supports and improved communications being key. Because of their amazing work. The children in this space have made academic gains quickly and confidently.
The continued progress and success will not stop. Mrs McLanachan will continue to keep the Ark "on course". The children remain in safe and very experienced hands.
Mrs Russell will complete her tenure at the end of Term 2.
We are currently advertising a Permanent, Scale A, Tagged teaching position.
(SEE VACANCIES SECTION)
---
Student Well-Being in Times of Change and Uncertainty
By Mrs McLanachan
This week St Michael's staff attended a webinar on Mental Illness in Primary School Children with Michael Hempseed.
Moving into Level 2 and returning to school has the potential to cause anxiety and stress for many of our children. This week the teachers have made a real effort to make sure the children in their classes settle back into school in a calm and relaxed manner.
We know that anxious children cannot learn, they need to feel safe and worry free in order to reflect, relate and use complex thinking.
Anxiety is often shown in children through physical sickness as they don't usually have the words to articulate how they are feeling. This sickness can present itself in tummy upsets, headaches, vomiting, and difficulty staying awake during the day.
There are many reasons children may feel anxious but the biggest factor of anxiety and mental illness in young children is lack of quality sleep. Research now suggests that sleep deprivation can cause anxiety disorders. The risk of inadequate sleep for young children can go way beyond tiredness, irritability and behaviour issues. Sleeplessness can lead to poor performance at school, health problems and anxiety and mood disorders. Below are some ideas the experts suggest to help your child sleep more soundly.
Make getting a good night's sleep a priority for your child. Try to set a bedtime at the same time every night, including weekends. A routine that includes relaxing time before bed and regular bedtimes and wake times can help your child settle better.

Establish a regular, relaxing bedtime routine. A warm bath, read a story or listen to soft music instead of screens.

Make sure their bedroom is cool, dark, and quiet. Consider using a fan to drown out excess noise.

Regular exercise will help your child sleep better. A bike ride around the block or a visit to the local park in the afternoon.

Make sure your child has enough food at the right time, sunlight during the day, and avoid stimulants like chocolate, energy drinks or lollies in the evening.

Turn off the TV at least two hours before bedtime. Research has shown that the light from a television screen, phone, or computer monitor can interfere with the production of the hormone melatonin. Melatonin is an important piece of sleep-wake cycles. When melatonin levels are at their highest, most people are sleepy and ready for bed. Just a half an hour of TV or other screen time before bed can disrupt that enough to keep your child up an extra two hours. Make the bedroom a screen-free zone or at least make sure all screens are completely dark from bedtime on. Phones are better left out of the bedroom at night.
---
Galilee has been learning about "What Flies?" for our inquiry. The class has been "Tuning In" finding out new information about things that fly, this has included some famous people like Jean Batten.
Last week, we had two students Aki and Anna write some questions that they wanted to ask a helicopter pilot.
You can watch their interview HERE
Over the next few weeks, we will be interviewing a boat builder, someone from NASA, and other experts.
---
You can now order SUSHI for your child's lunch!!!!!
The staff are excited too...
Here's How....
Click on this link "LUNCHONLINE" and follow the simple instructions to order.
ORDERS available: Monday, Tuesday and Thursday